Complementary and Alternative Treatments in Mental Health Care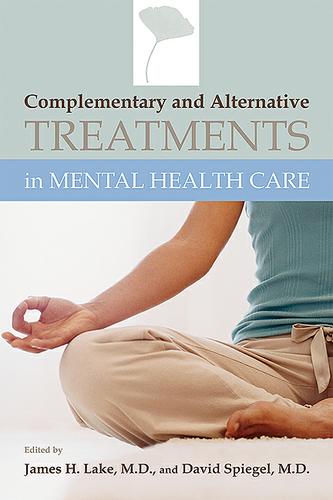 Already purchased in store?
Additional Book Details
The widespread use of nonconventional treatments, or complementary and alternative medicine (CAM), and the increasing evidence supporting their therapeutic benefits call for a concerted scientific effort to integrate treatments that work into mainstream medicines.Answering that call is the groundbreaking Complementary and Alternative Treatments in Mental Health Care, a concise, practical reference that reviews the many CAM approaches used in North America and Europe to treat -- or self-treat -- mental health problems, and the history and rationale for a variety of CAM treatments, including the risks and benefits of their integration into mainstream mental health care. Two dozen contributors with both conventional and nonconventional expertise present current information about safe, effective mental health treatments -- including herbals and other natural products, stress management, homeopathy, Ayurveda, and traditional Chinese medicine -- that have not yet been fully examined or endorsed by the institutions of conventional biomedicine. This book: • Covers background issues, including conceptual and historical foundations, emerging ideas and trends, safety issues, potential drug interactions and adverse effects, and medical-legal issues pertaining to use of nonconventional treatments in mental health care.• Reviews the evidence and offers practical clinical guidelines for the most widely used nonconventional treatments. Twelve chapters cover specific nonconventional modalities or alternative professional systems of medicine currently used to treat mental illness, addressing historical uses of the specified modality, significant recent research findings, unresolved safety issues, and evidence supporting use of the specified approach in common psychiatric disorders, from major depressive and bipolar disorder, schizophrenia, and generalized anxiety disorder to obsessive-compulsive disorder, dementia, and sleep and substance abuse disorders. Practical clinical applications of complementary and alternative approaches are discussed throughout the book.• Closes with three appendixes and a subject and author index. Appendix A ranks evidence for the various treatment modalities by major psychiatric disorder and is cross-referenced with the material in Part II. Appendix B lists important Web sites, textbooks, professional associations, and other resources. Appendix C contains a glossary of key terms used in complementary and alternative medicine. Written for both conventionally and nonconventionally trained mental health care professionals, Complementary and Alternative Treatments in Mental Health Care provides both an ideal reference for clinicians whose patients inquire about the uses of many CAM therapies and a critical, balanced review of the nonconventional modalities most widely used in Western countries to treat mental or emotional problems.
| | |
| --- | --- |
| Sold By | American Psychiatric Publishing |
| ISBNs | 9781585626397, 9781585622023, 1585626392 |
| Language | eng |
| Number of Pages | 505 |